Awards:

Main Transparent Window Manager features:
Startup Manager!
Adjust windows settings at start.
Sticky List Manager!
Any window can be visible on the active desktop, so window can't be hidden.
Any window 'Transparency' control!
You can set alpha blending to any window you want.
Any window 'Stay on top' control!
Top most window will be visible always.
Any window 'Disable Input' control!
The window with the 'disable input' flag and the 'stay on top' flag will be visible but cannot be moved, changed and clicked.
Any window in the 'System Tray'!
System Tray management feature.
Grabbed windows list!
The windows list allows to you set flags to the windows (stay on top, stay on bottom, disable input, system tray, auto shrink)
Selected window highlighting!
Activated window will be selected in the windows list and selected window in the windows list will be highlighted.
Password Recovery!
It allows to show the password in the password boxes ( '******' => 'mypass')
Auto Shrink any window!
Any inactive window can be auto shrinked.
Auto Scroll in any window with scrollbars!
If you have mouse without wheel feature or your mouse with the wheel is not very useful, this feature for YOU.
Virtual Desktop Manager!
Your real desktop will be larger. Your working place will be bigger and your job will be more comfortable.
Auto Wallpaper Switcher!
You need to specify wallpaper folder only.
User friendly interface.
.: More Screenshots :.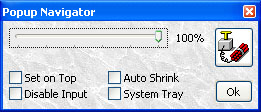 Popup Navigator. Allows you to set window settings on fly.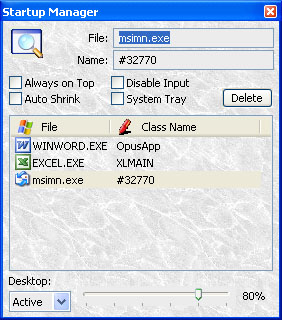 Startup Manager. Window settings can be changed automatically on start.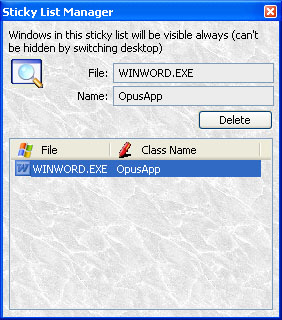 Sticky List Manager. All Windows in sticky list will be visible always!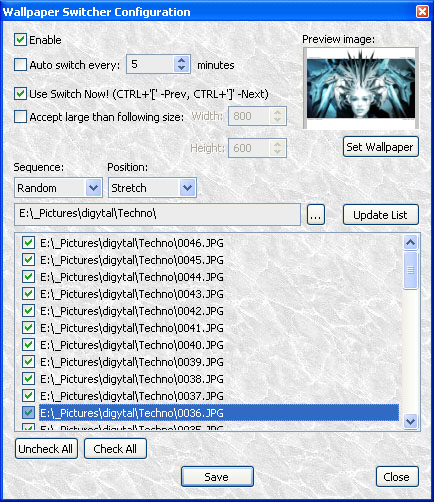 Wallpaper Switcher. Very useful utility for your desktop.
Operation Systems Supported:
Microsoft Windows 98 (some features)

Microsoft Windows ME (some features)

Microsoft Windows 2000

Microsoft Windows XP

Microsoft Windows 2003

Microsoft Windows Vista

Microsoft Windows 2008
Supported languages